Our Candidate Search Process
Bohan & Bradstreet is very consultative. We invest the time to evaluate and best understand our clients, including their history, organization structure, business processes, short term objectives, long term strategies, culture, leadership talent, future investments, commitment to stakeholders, markets serves, products/services, business uniqueness, and their needs. The better we know the client, the more efficiently we can complete the search. Our team enlightens clients on organization structures to support business goals, strategies on acquiring tealent, competitive compensation, insightful interviewing processes, and efficiencies on search and selection processes.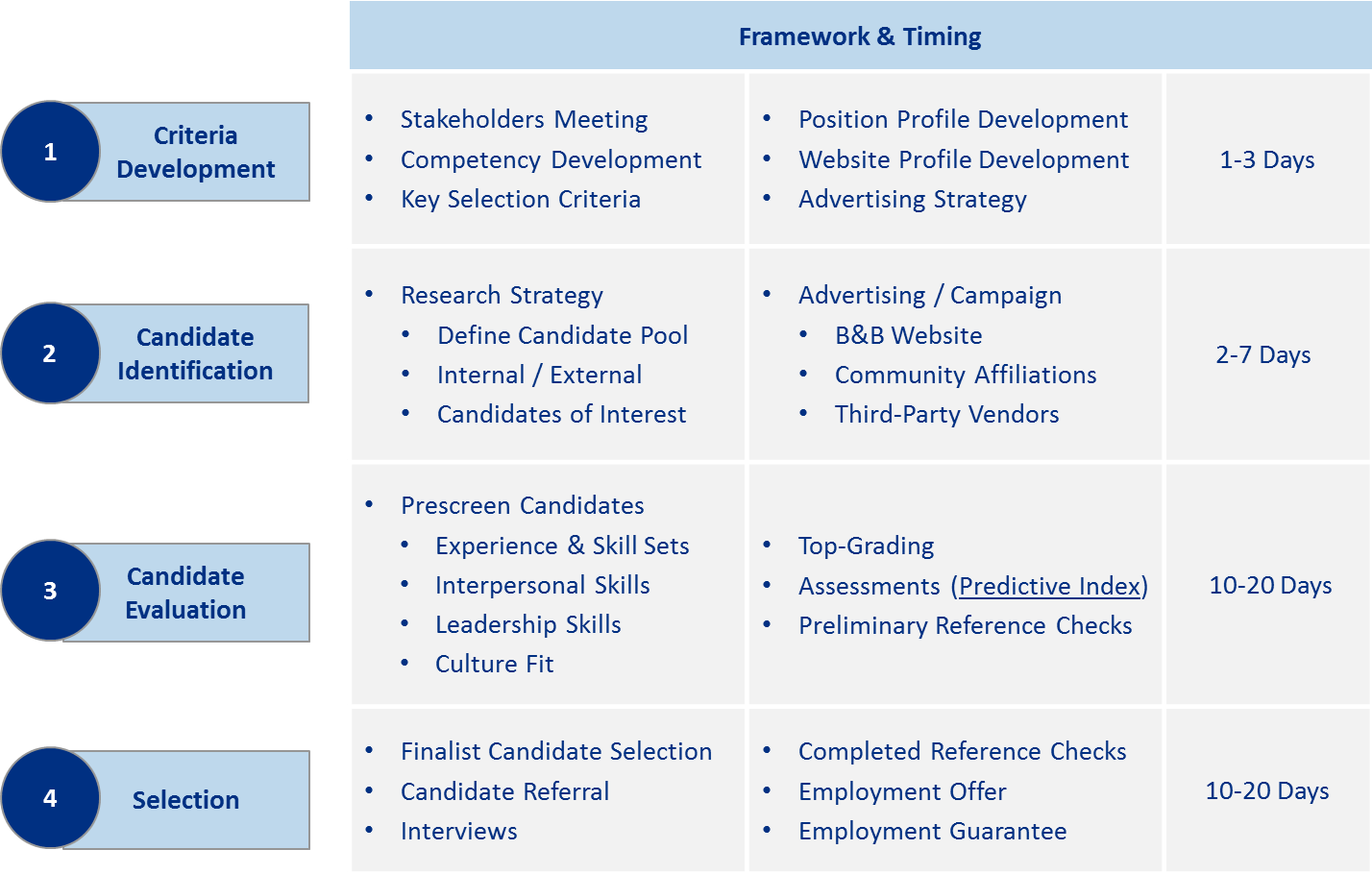 Defining Your Requirements
Bohan & Bradstreet partners with the client to create a complete and detailed description of core responsibilities, definition of opportunities to contribute, reporting structure, resources, client/candidate expectations, requirements, and compensation. Before starting the search we want to make sure all parties have strategically evaluated this search and defined the interview process.
Candidate Presentations
We will tailor our candidate presentations to your needs. We will supply target knowledge and experience, appropriate accomplishments, parallels between past history and client's opportunity, career motivators, reasons for change, personality traits, interpersonal skills, compensation history, and availability.
Interview Logistics
To expedite and facilitate the search process, B&B coordinates the logistics of the interviews with all parties. Everybody needs feedback, both positive and negative. Being the catalyst and coordinator, B&B provides the meaningful commentary and observations from all parties.
References
Some companies like to do their own references; however, the vast majority of our clients prefer that we do all or most of them. We contact superiors, peers, subordinates and external customers. We provide a paraphrased synopsis of our findings and present that with all the appropriate contact information in case the client would like to ask additional questions. Bohan & Bradstreet uses a third party to provide background checks for any client that would like this service to be performed. There is an additional charge for this service.