---
Friday, October 26, 2018 by julie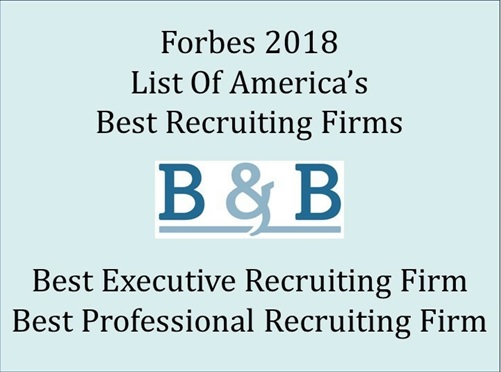 Since 2017, B&B has placed candidates with 100+ companies, at 40+ business sectors, & in 15+ states. We averaged 42 calendar days from signed search agreement to candidate signed acceptance. 71% of our placements (150+ placements) were completed by submitting 3 candidates or less to our clients.
30 Recently Completed Searches:
Chief Financial Officer for a privately-held retailer, wholesaler, and ecommerce marketer
Application Engineer for an automotive flow controls manufacturer
Chief Executive Officer of a non-profit healthcare organization
Assistant General Manager with a national transportation company
VP Finance for a privately-held manufacturer of X-ray imaging and irradiation systems
Mechanical Engineer in a manufacturer of tape and dispenser products
Tax Manager with regional CPA firm
Human Resources Director in a North American B2B services corporation
Business Development Director for a global manufacturer of healthcare products
EVP, General Counsel with a global bank
VP Finance & Administration for a privately-held manufacturer and NDT service
Senior Associate with a national CPA firm
ERP Project Analyst with a PE financed national distributor of office products
COO/CFO for an emerging digital health company
Assembly Manager with a capital equipment industry.
VP Quality Assurance in a PE backed contract manufacturer of molded products
Chief Financial Officer for a privately-held manufacturer of skincare products
District Sales Manager of microscopes and measuring systems
Senior Credit Analyst with a regional bank
Materials Manager in a global automotive products manufacturer
Chief Financial Officer in a PE funded manufacturer of water management products
VP HR Transformation with a global bank
Business Development Leader with a PE funded precision products manufacturer
VP Finance with a PE backed, multi-state building services company
Senior Marketing Director with a global nutritional products industry
President of the capital financial division of a global bank
Process Engineer for a manufacturer of advanced material solutions
General Manager for a privately-held manufacturer of self-sealing fasteners
Production Supervisor in a privately-held consumer products manufacturer
Customer Support Director in a national business products industry